Can one year Impact eternity?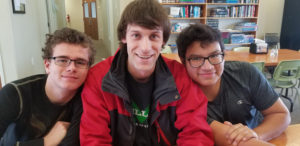 Internships at Rock Solid Refuge are all about impacting lives for God. They are a practical application of wisdom, knowledge, and experience that leaves a lasting impact on the lives of some of Canada's most vulnerable youths. It is taking everything that you believe and living it with the students.
Many students see Christians and God in a whole new light because of their experience at Rock Solid Refuge. They find hope in the authentic love that staff show them which is guided not by family ties or some internal effort, but by God Himself.
Whether it's for a few months, a year, or more, our interns are playing an integral and critical role in restoring lives and families through life-on-life interactions with the students on a daily basis.
What can you expect from your internship
Each internship is tailored to the individual's skills, experience, and passion.
You can expect to be discipled by our experienced, professional staff and receive formal training in Non-Violent Crisis Intervention. We don't expect you to have all the tools necessary to step into these situations the moment you join our team, but we do expect a willingness to learn, contribute to a culture of care, and apply the relational approach to discipline as taught by the Rock Solid Refuge team.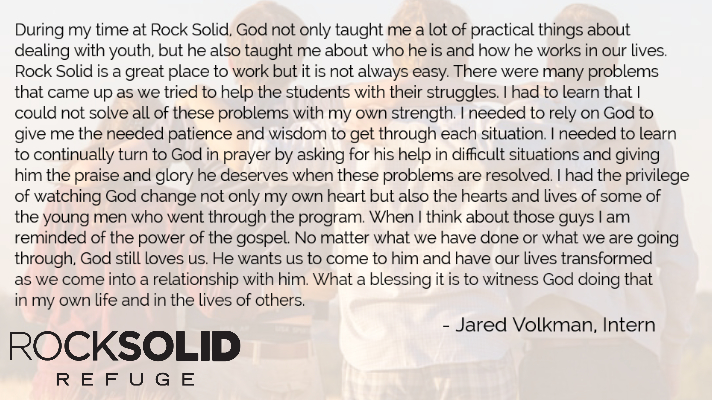 Rock Solid Refuge isn't for everyone
You can expect a level of conflict with the students. When you work with teens, especially those with life controlling issues, conflict is guaranteed. Rock Solid Refuge is uniquely positioned to press through these conflicts and guide teens them towards healthy function through genuine relationship.
You're not sharing words with these young men as much as you are sharing life with them. You model godliness and grace in a position of authority.
Our students will see what it means to be genuinely Christian through you. They will see you at your best and at your worst. They will learn what it means to lean on God and praise Him through struggle.
What sort of Qualities is Rock Solid looking for in interns?
We are seeking energetic, single, ministry-minded individuals who want to make a difference in the lives of struggling teens.
The greatest asset for any intern starting at Rock Solid Refuge is two-fold: A mind that is willing to grow and a heart that is strong enough to love unconditionally.
Rock Solid Refuge covers all room and board expenses for our interns living on site. Financial compensation beyond that is negotiated on a case-to-case basis that takes into account the individual intern's needs.
Send your resume to [email protected] or call 306-297-3663 to discover how your time at Rock Solid can have an eternal impact.