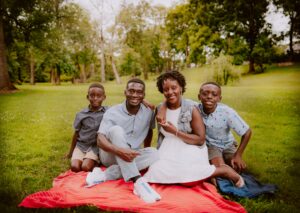 We were an average family with both parents working, kids in primary school, and a busy life filled with extra-curricular activities.
In November 2010, my wife suffered a massive stroke and our solid family fell apart. Joseph and his mom always had a special connection, and he quickly developed a strong disdain for what he called his 'new mom'. Our son was only seven and for several years Joseph was angry with the change in his young life. We tried different family therapists, but sadly, nothing changed. We knew Joseph's perceived loss of his 'original mom' had created a crushing sense of unhappiness and anger resulted as a secondary emotion.
Eventually, our son turned to drugs and alcohol to escape his sorrow, leading to issues of truancy and illegal activities. We knew we were in trouble after Joseph was kicked out of the second high school and was threatening to hurt his sibling. We had incurred thousands of dollars of damage to our home, installed numerous door locks, and had endured situations involving law enforcement and the courts. A colleague of mine knew of a place, and suggested we contact Rock Solid Refuge (RSR) for help.
The year before Joseph left for RSR, he had stopped talking about his future. Instead, he wanted to end his life and failed twice attempting to kill himself. Just prior to the third episode, we intervened and tried committing Joseph to a psychiatric ward for assessment, but that was unsuccessful. Simply stated, without RSR, I would be talking about my son in the past tense and tormented by my inability to 'fix things' in our family.
We are so incredibly thankful to have our son back! We are once again a solid family unit and no longer dread having Joseph in our home. We cherish every moment with him. Our son is loving, considerate, respectful, responsible, and generous. He completed Grade 10 at RSR and graduated from the program, then went on to receive his Grade 12 diploma from another school. Joseph is working now and hopes to learn a trade someday.
What a blessing it is now to hear him discussing his future, and have meaningful and sincere engagement with his mom again, his sister and of course, with myself.
What a gift RSR has been to my son and our family!
We hope that this content has been informative and helpful. It is our desire to help families and bring struggling teens back together. We encourage you to share this information with others who may be in need.
Our ministry is primarily funded by our supporters, both individuals and churches, who partner with us to bring about restoration in these young men's lives. To join them in supporting Rock Solid Refuge and our ongoing ministry, please click here to donate!
Thank you for your support.