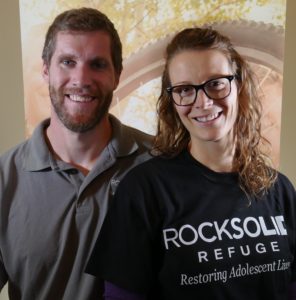 I grew up in Hague, just North of Saskatoon. I moved to Saskatoon while attending university, where I completed Bachelor's degrees in English and Education, as well as a Master's degree in Educational Administration. I also had the opportunity to play football for the Saskatoon Hilltops and U of S Huskies during that time. The last 10 years I've spent teaching and coaching at Warman High School.
My wife, Jessica, and I were married in 2005. She worked as a Registered Nurse at Royal University Hospital in Saskatoon for 10 years. During that time, we had three children: Gavin (7), Addison (5), and Elizabeth (2). We have been actively involved in church since being married, attending West Portal Mennonite Church for 8 years, and Osler Community church for the last 5.
It was during a Rock Solid presentation last February at Osler Community Church that God began leading us here. God had already been dropping hints that a move was in our near future, and Dallas visiting our church happened while we were in the process of discerning this; Rock Solid was looking for an Education Director, and we believed that this may be the sign we had been waiting for. So, we visited Rock Solid for a weekend in April, and decided that I should apply for the position.
God has affirmed our calling in many ways since. The circumstances around selling our house in Osler, finding a place to live down here, and Jessi finding work at the Shaunavon Hospital, was something only God could orchestrate. He has been teaching us so much about trust and
obedience, frequently asking us,
"What are you willing to give up for me?". We are learning that God hasn't promised us a life of worldly ease, but He does promise that in the struggle, Jesus will be enough. We'd like to thank you for your support of Rock Solid Refuge, and are excited at the opportunity to minister here.