Tickets: $50 per person, $400 for a table of 8
5:30p.m. - Reception
6:20p.m. - Dinner begins
Live and Silent Auctions
Inspirational Student Testimonies
Keynote speaker: Natalie Ackerman
Founder of Hope 4 More Ministries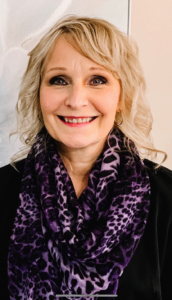 Natalie Ackerman lives and works in the city of Lloydminster, SK/AB as a local entrepreneur and Fashion Designer with Natalie May Designs. She is a mother of 2 grown children; April, and Kyler, and a grandmother to 2 girls; Eden and Willow.
"In 2006, I lost my husband to suicide, an event that would change my life forever. I then realized the urgency to share the simple message of the Hope of the gospel, which I believe is what people really need to hear."
Since 2012, Natalie and her team have been bringing communities together with a simple message of HOPE through Hope 4 More Ministries, and local community events. This ministry has opened doors into local schools and college, addictions center, and local church venues, sharing the message of hope and freedom found only in Christ.
"That is what everything is about: a Hope and A Future. Everybody needs Hope. We need to help others find this Light, for their path."